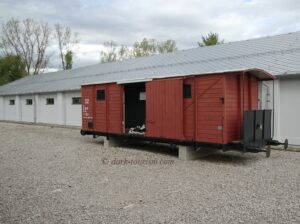 here's a Blog post about the Sered Holocaust Museum, which I visited in late October this year.
The museum is housed in the original barracks of what was Sered's labour/concentration camp in the Holocaust in Slovakia during WWII.
As is often the case on this Blog, the post is primarily a short photo essay with just essential information.
There were in fact several labour camps for Jews in Slovakia from ca. 1941 onwards. After the Slovak National Uprising in August 1944, which was quickly and brutally crushed by Nazi Germany (see Muzeum SNP), these camps became proper concentration camps, now run by the SS, and also