Just under two weeks ago I returned from a short trip to Denmark's capital Copenhagen, arranged at short notice too. But I had three wonderful days in that fabulous city. It was in fact the last capital city in Europe I hadn't yet visited (OK, I still haven't been to San Marino, Andorra de Vella or Torshavn, the capital of the Faroe Islands, but these are comparatively small places rather than major cities proper). Now I can't understand what kept me from visiting Copenhagen for so long.
Well, partially I can: I had put off a visit for years because I had read about one of the main attractions in terms of dark tourism, namely the Museum of Danish Resistance, which had burned down in an arson attack in 2013. And it took many, many years for a brand-new replacement museum to be completed. This opened in July 2020, i.e. in the middle of the Covid-19 pandemic. In the following two years I had other travel plans, but now a trip to Copenhagen has finally worked out. Needless to say, the Museum was my very first port of call when I was there at the end of last month.
Here's a photo of the above-ground part of the new Resistance Museum (called "Frihedsmuseet" in Danish, which actually means 'Freedom Museum'):
Most of the museum, including the permanent exhibition in its entirety, however, is located under the small ground-level museum building you see above, but you literally have to go underground to see its contents. Here's a photo of just one part of the exhibition: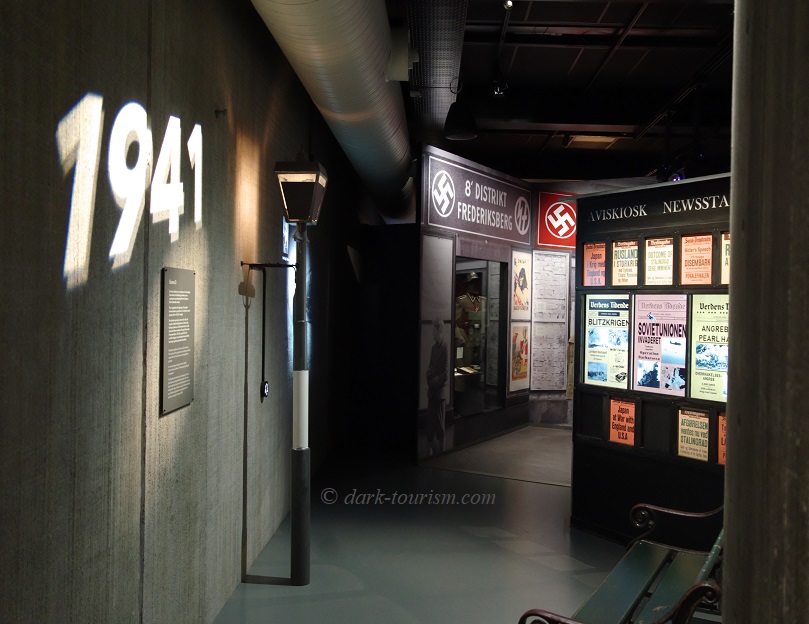 The topic of the museum is the occupation of Denmark by Nazi Germany during WWII and the various forms of resistance by Danes against that – but also about collaboration and the country's own Nazi party, the DNSAP. This place will obviously warrant a dedicated stand-alone chapter on my main website, possibly even a separate Blog post too. We'll see.
Just a stone's throw away from the museum, just outside the historic Citadel, there's also a more prominently visible monument commemorating those Danish soldiers who served with the Allies during WWII:
The other museum I visited, still on the same day in fact, was the "Medicinsk Museion", or 'medical museum', apparently one of the oldest of its type, first opened in 1906. Here it is, seen from the outside:
The exhibitions inside are quite modern, though. In fact some parts are really recent, including a section about the Covid-19 pandemic! So that's pretty up to date. The part with older exhibits includes vintage glass cabinets with preserved specimens of various deformed babies, diseased body parts and whole skeletons. To my surprise, photography in this museum was allowed and even encouraged (that's very rarely the case with museums of this subcategory). So here's a photo from one part which, I hope, isn't too in-your-face icky:
Again, this place will warrant a stand-alone chapter on my main website too, but probably not a Blog post (precisely because of the icky nature of the photos, which are probably better "hidden" in a clickable photo gallery with thumbnails, so readers can choose whether they want to look at the images or rather skip the gallery).
Less problematic but also worthy of a main website entry is Mindelunden, the next place I visited in Copenhagen (on my second day there). This can be seen as the national shrine to Danish resistance fighter "martyrs". Here's a photo of the main field of graves and its central monument:
In addition there is also a long commemorative wall, a plot with graves of Danish victims of German Nazi concentration camps, yet more memorial monuments and two original execution sites used by the Nazis during the occupation of Denmark. Here's a photo of the main one, complete with three poles that the victims (presumably) were tied to before their execution:
While at the Mindelunden execution site the victims were Danish resistance fighters, there's another execution site in Copenhagen where the victims were Danish collaborators who were sentenced to death after WWII. It's located on the edge of the old 17th century ramparts that are now part of Christiania (see below). It's a rather obscure site, with no commodification at all: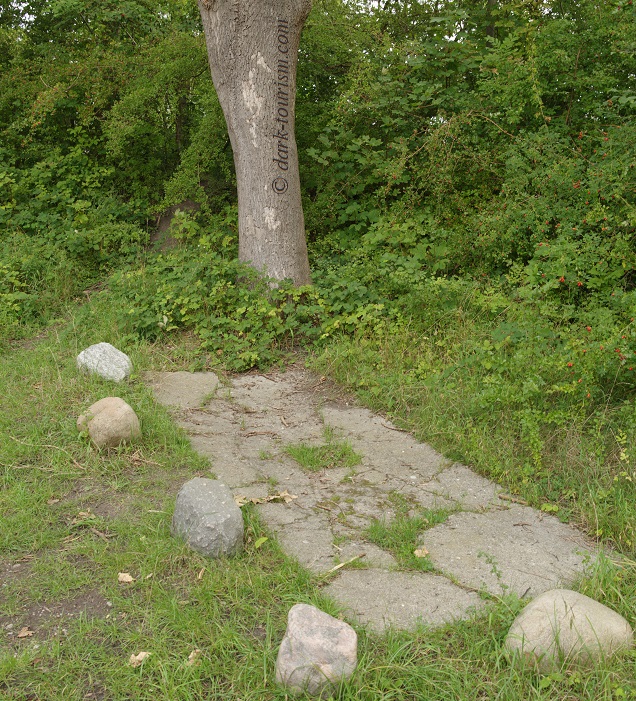 What you see here is the overgrown remnants of the foundation of a wooden 'execution shed'. The small boulders around the concrete foundation slab have been added in recent years. The little square patch in the middle was a drain (for blood, one has to presume), now so overgrown you can't make it out properly any more. But you can see a photo of the foundations when they were less overgrown on Wikipedia (namely here – external link, opens in a new tab).
The site was apparently in use from 1947 to 1950 and 29 convicted Nazi collaborators were executed by firing squad here. I had come across this location quite by chance (mousing over it on Google Maps). It's quite indicative that this place should receive no commodification or interpretation and nothing at the site hints at what it once was. The laws that made the death sentences possible were quite controversial (applying retroactively to deeds committed before the law came into existence) and commemoration of this at this spot might get in the way of the preferred narrative of Denmark as primarily a victim of the Nazis (that said, though, the Frihedsmuseet – see above – does cover the topic of Nazi collaborators and the executions of dozens of them after the war).
Another quite obscure relic from the dark days of Nazi occupation can be found (if you know what to look for) at a former potato storage warehouse in Vesterbro (the district west of the centre and the main train station). Here you can spot graffiti left by bored and/or disillusioned Nazi soldiers who had to guard this warehouse during the occupation. The most remarkable bit (I find) is the one you can see in the centre of the following photo:
What has been scratched into the bricks here is a quote of that question Joseph Goebbels asked his audience of specially selected devout Nazis in his infamous "Sportpalast" speech of 1943. The culmination point of that speech was "Wollt ihr den totalen Krieg?" ('Do you want total war?'), to which the well-trained crowd responded, as expected, with a resounding "Ja!" ('yes!'). In this graffito, however, you find a small "nein" ('no') following that same question! Such defiance must have been quite risky. Had the originator of this graffito been caught in the act, that would have meant serious trouble.
Most of the other graffiti you can find here are less remarkable, though one I found too consisted of a long row of question marks followed by the line "wann kehren wir zurück?" ('when will we go back/home?'), illustrating the boredom and homesickness of one soldier. The graffiti are all quite small, each fitting into a single brick, and are hence not all that easy to find. Moreover, many more graffiti from later years have been added, so the older ones from the Nazi era are becoming less and less legible and may one day disappear altogether. They are certainly not protected (let alone commodified/interpreted).
I also made it to Copenhagen's Assistens Cemetery, primarily to visit the grave of Niels Bohr, the legendary nuclear physicist and 1922 Nobel Prize winner, who also played a role in the Manhattan Project at Los Alamos:
Days before setting off for Copenhagen I had watched the new movie "Oppenheimer" at the cinema. I had been a little reluctant to go because of the running time of over three hours. But my wife convinced me by pointing out that since we had been to both Los Alamos and the Trinity site, as well as to both Hiroshima and Nagasaki, we had almost an obligation to go and see this film. I agreed and now I'm glad I did see it at a cinema (with full sound effects and on a big screen) and found it very well made (except that it reiterated the old narrative, preferred in the US, that the atomic bombs "ended" WWII, which hasn't been the agreed conclusion amongst historians for quite some time, who instead point towards the Soviet advance in Manchuria as the real main reason for Japan's surrender). Anyway, when I was in Copenhagen, the pilgrimage to Niels Bohr's grave felt obligatory. And there's another reason for it: Several years ago I was visited by Niels Bohr's great-granddaughter, who as a film student at the time came to interview me about dark tourism. As a gesture of thanks she brought a gift: a photo showing Niels Bohr and his son Aage, who also became a physics Nobel Prize winner, standing at a large blackboard filled with calculations and cryptic symbols (to the untrained eye) while at their feet a young boy is imitating the proceedings by the adults. This boy was Tomas Bohr (who also went on to become a physicist), father of Niels Bohr's great-granddaughter – so there were three generations preceding hers together in this one photo. This is why Niels Bohr is more special to me personally than other members of the Manhattan Project.
Also to be found in Assistens Cemetery are the graves of other famous Danes, such as Hans Christian Andersen, the author mainly known for his many remarkable fairy tales, as well as the philosopher Søren Kierkegaard. Other than for the famous names, though, the cemetery as such is less remarkable. I spotted only a couple of noteworthy pieces of sepulchral art there (compared to the famous cemeteries in Paris or Milan).
There are also a few more places in Copenhagen which are of interest from a dark-tourism perspective but which I did not manage to visit on this short trip. This includes the Krigsmuseet (war museum), which is said to include sections on the Cold War and UN missions in e.g. Afghanistan. Another is the Museet Skibene pa Holmen, a Navy and Cold-War museum featuring a modern-day submarine and frigate, both decommissioned only about a dozen years ago. But I didn't really have enough time and also didn't want to drag my wife around such museums (she's generally less interested in military hardware and calls them "boys' toys"). For me, though, they would be amongst the many reasons for a return visit to Copenhagen. The Navy museum's star pieces I did at least see from across the water, as seen in this photo: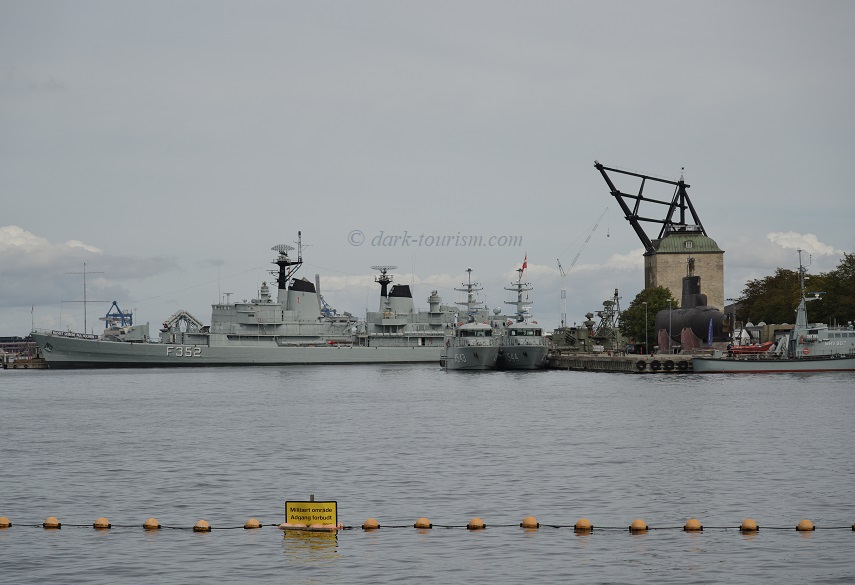 Almost directly across the water from the museum on the city centre shores near the old Citadel is what's arguably Copenhagen's most iconic – and most visited – attraction: the Little Mermaid sculpture:
This sight is of course outside the realm of dark tourism proper, and I only include her here as I thought this prime sight can't be left unmentioned when talking about Copenhagen. Indeed, practically all tourists in this city go to see this statue – and most find her "disappointingly small" (my wife's words again). But still, the crowds at the little rock she rests on are tremendous (one could call it 'overtourism'). Just look at the following photo, taken a certain distance away from the Little Mermaid:
In fact you can barely make out the location of the Little Mermaid in this photo – so I put a little arrow in to mark her location 😉
One reason for the huge numbers of visitors at that time was the fact that there were a couple of gigantic cruise ships in port, those monsters of the seas that provide the environmentally worst mode of tourism and disgorge thousands of tourists simultaneously at every place they call, where coaches then cart them to the most standardized tourism hotspots for a quick selfie. It's the opposite of travel as I understand and like it and on this occasion (as on others) more or less took away every bit of atmospheric appeal this classic sculpture might otherwise have had. So there we are – maybe a bit of a dark aspect involved here after all …
Speaking of sculptures, Copenhagen is full of public art in the form of sculptures and statues, from traditional to ultra-modern. One I found exceptional – and somewhat spooky to look at – is this group of submerged statues of vaguely human form (same photo as the featured one at the top of this post):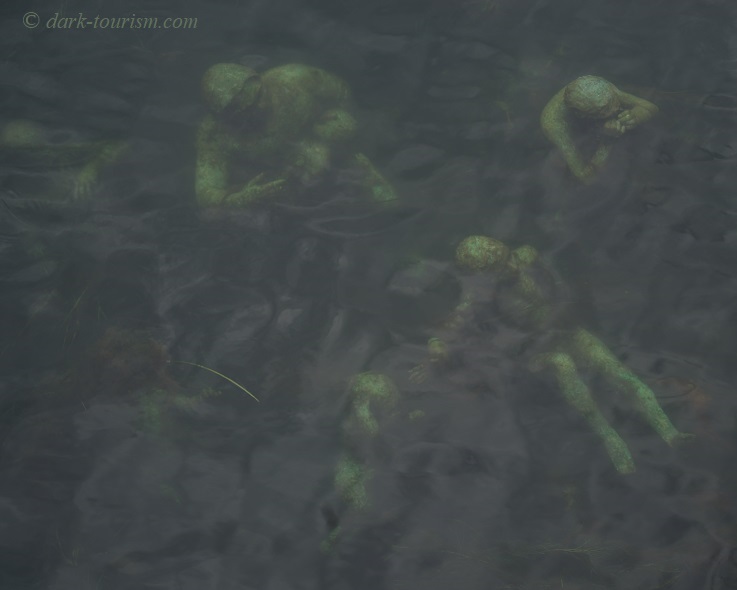 They are located in the Slotsholmen Canal near the Gammel Strand and are supposed to represent a group of 'mermen'!
Many tourists also visit Christiania, the controversial "Freetown" known for its counterculture and liberal open use of cannabis. You find lots of public art there too, mostly fitting in with the residents' cultural attitudes, such as this example of a joint-smoking red skeleton (thus lending it an extra aspect that can be considered somewhat 'dark'):
It is marked as "photo OK" because at nearby "Pusher Street" there are still prominent "no photography" signs. That's where cannabis used to be sold freely until more recently a deal was struck with the authorities of Copenhagen that ended the trade (in 2016) at Pusher Street. This came in part due to criminal gangs' involvement in the drug trade and a few violent incidents. Drug dealing has, however, not stopped altogether in Christiania and remains a bone of contention also amongst local residents.
Having already left the territory of what is strictly speaking dark tourism before (with the Little Mermaid), I can also point out that Copenhagen is full of architectural delights, both classic old stuff as well as lots of modern buildings. And I found that unlike in many other places the old and the new often go very well together next to each other in this city. Amongst the older architecture, Copenhagen features a host of palaces, such as this pretty one that is Rosenborg Slot:
The main residence of the Danish Royal Family is Amalienborg. Here you see guards with big black Busby hats, just like in London, except here the uniforms are not red but black:
As an example of modern architecture the ultra-modern Opera House can be adduced, as seen in the following photo:
I found the juxtaposition with the lifebelt and the German flag (at the stern of a sailing yacht moored there) in the foreground of this photo quite evocative. The German occupation in WWII may have ended in 1945, but there are still plenty of Germans to be seen in Denmark – forming the largest group of tourists here overall (although Copenhagen is more mixed than, say, Jutland).
Amongst the most iconic architectural sights of Copenhagen is the spire at the Børsen (stock exchange) building, which is formed by the intertwined tails of four dragons:
This is only one of many places where you can see Ukrainian flags flying in Copenhagen these days. Like much of Europe and especially the Scandinavian countries, Denmark is very much in support of Ukraine and in opposition to the aggressor Russia in this latest war waged on European soil. There is even a "Ukraine House in Denmark", which features exhibitions and talks (but I did not visit it), and yet more flags fly in the main train station (together with Danish ones) as well as in many other locations. Given the current war, this does add a certain dark element after all.
Not so dark, in contrast, but also highly iconic of Copenhagen's cityscape is the spiral tower of the Church of Our Saviour ("Vor Frelsers Kirke" in Danish) in Christianshavn:
Copenhagen was also quite a delight in terms of food and drink. For one thing it seems to be the European capital of craft beer, featuring several dozens of excellent craft beer bars and a number of craft breweries within the city limits. One of the few places I popped into also had a dark element to it, in terms of its name and its coffin-shaped logo, as seen in this photo:
The name of the bar and the brewery it is associated with is "Too Old to Die Young". I don't normally feature particular brand names on this Blog (or on my main website), but on this occasion I had to make an exception. That name directly speaks to me. And the beers I've had from that brewery were also all of excellent quality (I only had one at the taproom but also took a few cans home).
Food-wise, the culinary highlight of Copenhagen was the "national dish" called smørrebrød (literally 'butter bread') – it's not actually a single dish but a range of open sandwiches that can come in many dozens of varieties. We had them at a number of places, including a lunch at Copenhagen's oldest restaurant that specializes only in smørrebrød. We were spoiled for choice but only managed six types. Here is a photo of the first four, just to give you an impression:
But with that I come to a close. Excuse the little excursions out of the realm of dark tourism proper. But I was so smitten with Copenhagen that I wanted to include a few of those non-dark aspects as well, even if they were a little off topic. The next Blog post will be more focused again. Promise.