Regular readers of this DT Blog and the associated Newsletter (if you haven't signed up for it yet, maybe now's the time to do so – see the box over on the top right!) will be aware that about a month ago I went on a return visit to Northern Ireland (NI). My first visit was back in December 2012, but it was short: only two days in (London)Derry, three in Belfast and then I tagged on another two in Dublin in the Republic of Ireland.
I knew lots had changed in the meantime and various new developments warranted inspection from a DT perspective, so a return to this highly intriguing corner of the world was long overdue.
And so on 3 April I set off, flying into Dublin and getting the bus up to Belfast from there (from where I'm based, Vienna, it's the most convenient and least costly way of getting there). On this occasion I really allowed myself time for some in-depth fieldwork. Most people only visit Belfast for just a long weekend. Yet from a dark-tourism perspective that is definitely not long enough! This time I spent a total of nine days in Belfast, plus two again in (London)Derry, before moving on to Birmingham for a family visit (as noted in the latest DT Newsletter).
This post is the first one in what's going to be a whole series. Here I'm beginning with a general overview, highlighting the various sites I went to, and illustrated with just a few selected photos each. Here we go:
For the first five nights I had booked a room in the legendary Europa Hotel. This is where most journalists covering "the Troubles" in Northern Ireland tended to stay between the early 1970s and the 1990s. It's been dubbed "the most bombed hotel in the world", as indeed it became the target of bombings during "the Troubles" about three dozen times. It's also said that when the IRA bombed the adjacent Opera House, they did so so that the journalists at the Europa didn't have to leave the bar in order to cover the incident …
I normally avoid including photos of active businesses like hotels, but I thought in this case I could make an exception:
It's a typical early 1970s structure and few would claim it's especially pretty, but with a history like that it had to be my obvious first choice. And there have been numerous illustrious guests at this hotel over the decades too, not least US president Bill Clinton in the 1990s! In the lobby there's a small exhibition corner detailing the hotel's remarkable history … For me it was also convenient, being located directly by the main bus and train stations. And just across the street is one of Northern Ireland's most famous pubs, "The Crown", an exuberantly ornate Victorian-era drinking hole, a Belfast landmark that is now even part of the National Trust. Next to that is another large pub that features a section crammed full of RMS Titanic paraphernalia, so that was worth visiting too. Indeed the Titanic is the other "big T" dominating Belfast's tourism industry (the other being "the Troubles", naturally). So I tried to explore this aspect to the full as well. And can you think of a better DT-related excuse for going to a pub?
The next day I had two proper dark-tourism activities planned, the first being a visit to the old Crumlin Road Gaol. When I first saw this in December 2012 during my Black Taxi Tour, it had only just opened its doors to the public. In those days visits were by guided tour only (and I didn't have time for that back then), but nowadays you can also visit it independently and on a self-guided basis.
I had booked tickets online for a fairly early slot half an hour after opening. That was good, as for the first half of my visit there weren't too many other visitors there. But after that it got really busy, actually too crowded for my liking. But the structure, a classic prison design from the mid-19th century (cf. Eastern State Penitentiary) was certainly photogenic. Here's an example from inside the one cell block that has been commodified and opened to the general public:
During "the Troubles" the prison held many of the conflict's political prisoners, including suspected as well as actual "terrorists", from both sides, Republicans and Unionists (strictly segregated, of course). That's until most were transferred to the infamous Maze prison (aka Long Kesh) outside Belfast. Crumlin Road Gaol was closed for good in 1996.
Across the road from the prison is the former Crumlin Road Courthouse, which after the closure of the prison was also given up in 1998 (the year of the Good Friday Agreement). It has since fallen into dereliction, partly brought about by repeated arson attacks. This is what it looks like today:
Subscribers to this DT Blog's Newsletter will recognize this photo from the latest instalment. It's a sad sight to behold, and even though officially planning permission has been granted to turn this palatial pile into a hotel, nothing has happened to save the structure from complete collapse. I would have loved to explore the ruin as an exercise in urbexing, but we couldn't find a way in, no big-enough gaps in the outer fence or any place where you could have safely climbed over. It must at some point have been possible, though, as this urbex video from 2021 shows (external link, opens in a new tab).
After that we meandered through the Unionist Shankill District, with its (in)famous political wall murals, many of which I recognized from my Black Taxi Tour back in 2012. Even a few of the most controversial ones glorifying Unionist paramilitary fighters are still in place, though some are showing signs of neglect in maintenance by now. Here's an example (I'll leave it to you to work out the backstory behind this mural and the person it commemorates for yourself):
Our second planned activity that day was a three-hour "political walking tour" that promised a fair balance, with both sides of the divide being equally represented. Authenticity was also assured in that the tour was led by people who had been, and still are involved, in the whole conflict (and its resolution now). And indeed, the first half of the tour was conducted by a former IRA member and political prisoner of 12 years or so, who now works for the Republicans' political arm Sinn Féin and is much involved in youth work and fostering dialogue. The route on this part stayed in the Republican Falls Road district.
We then passed through the so-called Peace Wall at one of the gates that remain open during the day but are still locked at night. This Peace Wall itself is not dissimilar to the wall they have in Jerusalem and other places between Jewish and Palestinian communities in Israel. And apparently it is still required to keep the two communities of Protestants/Unionists and Catholics/Republicans safely separated … (same photo as the featured one at the top of this post):
On the Shankill side, the tour-guiding was then taken over by a Unionist, who had also been a political prisoner for something like 15 years (at Crumlin Road Gaol – see above) and who admitted that in his active time he did all manner of things just short of being enough for a life sentence … Yet he was a softly-spoken, pleasant, if slightly cynical guy. His Republican counterpart, in contrast, displayed more natural PR talent. (This seems to be the case generally – the Republicans somehow manage to get their side of the story/history across to outsiders more successfully than the Loyalists … this is something that was already noted in my 2012 edition of the Lonely Planet guidebook to Ireland and still seems to hold true.)
The set of tourists in the group (a good 20 participants would be my guess) was quite international, just a couple of Brits, but several Spaniards and Italians, plus Germans, Dutch and a very inquisitive Canadian. In any case, it is clear that these political tours (whether on foot, by taxi or coach) are very much in the top league of the local tourism industry. Our Unionist guide said that the Peace Wall in West Belfast sees something like two million visitors annually these days! (Online sources say more like half a million per year; but still, it's a massive figure in any case.) So this really is another case of dark tourism overlapping with mainstream tourism (see also Auschwitz, 9/11 Memorial or Hiroshima).
The next day was a rainy day, so we took it slow, but went back to the Falls Road district to visit the Irish Republican History Museum at the Conway Mill Complex. There are no two sides here. This is firmly a representation of the Republican struggle only. It's a private museum, a little amateurish and higgledy-piggledy in design, but has its charms and some remarkable artefacts. Included in the collection is this reconstruction of a prison cell:
After the museum we walked the length of Falls Road to get to the Milltown Cemetery, where there is this Republican section: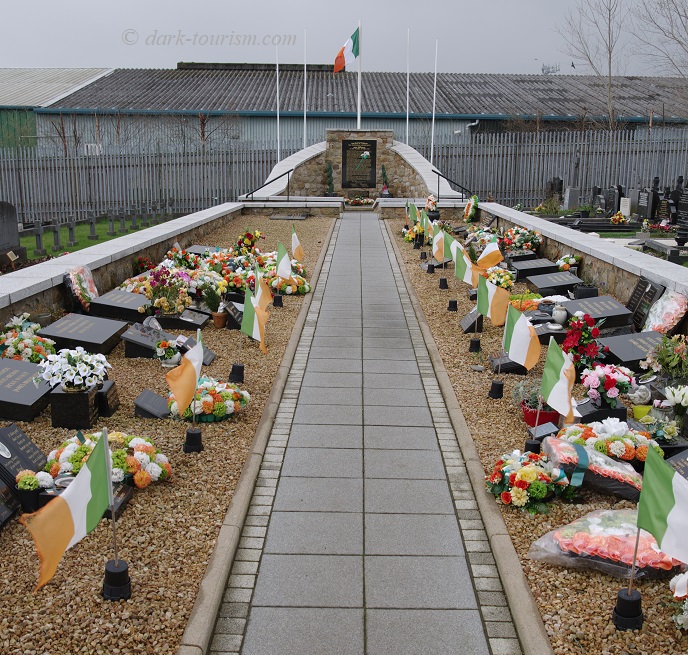 It is here that some of the most (in)famous Republican fighters are buried, not least the legendary Bobby Sands:
Bobby Sands was one of the ten high-profile hunger strikers of 1981, who protested in prison in order to get their status as political prisoners (re)confirmed and who eventually starved to death in the process (i.e. the Brits, well, Maggie Thatcher, essentially, let them die). His sunny image has become the most iconic of any Republican and it features in numerous murals and whatnot. In a way he's the "poster boy", the "Che Guevara" of the Republicans … Here's the famous Bobby Sands mural on the side of the Sinn Féin HQ building on Falls Road:
The next day we gave DT a break and instead went on a standard touristy day tour by coach. This combined the Giant's Causeway (NI's No. 1 tourism attraction and a UNESCO heritage site) with various filming locations for the "Game of Thrones" TV series. I've not watched a single minute of that series (the two words "game" and "thrones" scream to me: avoid at all costs!! … and in combination they do even more so). Hence all of the guide's narrative about that series went one hundred per cent over my head. But I just concentrated on photography.
One highlight was supposed to be the so-called "Dark Hedges", which do look magical in the usual postcard-like photos you may have seen and apparently also in the short sequence in the series that they feature in. But in real life they were decidedly underwhelming. The constant stream of garish-clad tourists wandering along the road certainly doesn't help …
Sadly, the Giant's Causeway was similarly underwhelming for me, again partly because it was just too overcrowded. On a winter morning when you have the place to yourself it might be atmospheric. The way that I saw it, with hordes of tourists prancing about and taking selfies, it left me rather cold.
For me the highlight of the tour was rather the short stop at Old Bushmills Whiskey Distillery. There wasn't time for a tour (I wouldn't have gone on one anyway, I've been on better private distillery tours in Scotland), but enough for a look around the gift shop and a tipple in the bar. Of course, they shower you with the claim that this is the oldest working distillery in the world, allegedly dating back to 1608. But that's ultimately just PR crap. There may have been a distillery somewhere in the region "licensed" to do business around that time (records are very murky indeed) but the fact remains that the present distillery at this location in the village of Bushmills was constructed in the late 19th century, like so many in Scotland too, so in reality in terms of age it is nothing special. (There are older malt whisky distilleries in Scotland.)
But back to dark tourism. On Good Friday we explored southern Belfast, including the eminent Ulster Museum. This is housed in a structure that will make the hearts of fans of the 'brutalist' architectural style beat faster (I quite like it too):
And inside, in addition to all the expected old stuff (which I largely gave a miss) there is now a very contemporary exhibition entitled "The Troubles and Beyond". And it's excellent! Unlike the Irish Republican History Museum (see above) or the Free Derry Museum (see below), this is part of the National Museums NI group, and as such its curators had to come up with a maximally balanced representation of this difficult heritage. It's as tall an order as it gets when it comes to museum curating, but I think on balance they've done an admirable job. I also bought the book about the curating process, which is highly illuminating too. This was a real discovery. Highly recommended! Here's just one photo from that exhibition:
The next day we moved on into the Titanic Quarter where we treated ourselves to staying three nights at the relatively new Titanic Hotel. This is housed in the converted original headquarters building of the Harland & Wolff shipyards where RMS Titanic, her sister ships Olympic and Britannic, as well as countless other vessels, were designed back then. One of the two "drawing offices" (halls, more like, with its lofty skylights) has been converted into the hotel's main bar:
After we'd checked in there we walked up north towards the old Thompson Graving Dock, then the largest in the world, where Titanic was outfitted before her fateful maiden voyage in 1912. I'd seen it before in 2012, when, however, there was a film crew at work who had set up a marquee at the bottom of the dock, so I was looking forward to seeing this dry dock in its full glory without that unfitting blemish. Unfortunately, though, access to the dock and the adjacent historic pump house was not possible at the time (only from the end of April, so I was told). That was because there was still construction work going on as part of a recent redevelopment – which also gave the city the new "Titanic Distillery" (I tried their Irish whiskey, and I can vouch for its indeed superb quality … it's anything but a sinking disaster!).
However, in a smaller dock next door, the HMS Caroline, a historic WW1-era Royal Navy warship (the only surviving vessel that took part in the biggest ever sea battle of the Great War, at Jutland) had just been opened to the public that month and we had obtained tickets in advance online for that too. Here's a photo from the outside:
On Easter Sunday we got a train from the Titanic Quarter all the way to the northern edge of Belfast at Cultra in order to visit the Ulster Transport Museum. That's mostly cars and trains and would normally leave me decidedly cold, but I knew they also had a separate Titanic exhibition with some original artefacts, so in order to get as complete a picture as possible of Belfast's resurged efforts in commodifying the Titanic legacy, this had to be included as well. And it was worth it on balance, even though the small exhibition couldn't compete with big one at the original site (see below). But instead of giving you a photo of any further Titanic exhibits, I decided to pick one of a car after all. It's no "ordinary" car, though, but a DeLorean DMC-12, a short-lived sports car model manufactured in Belfast in the early 1980s: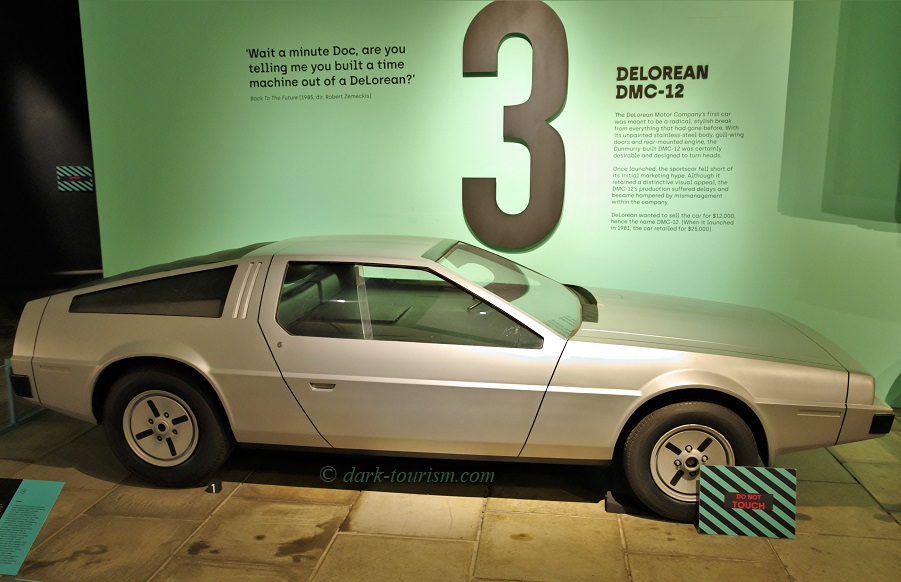 In business terms the car was a complete failure and the company soon folded. BUT, the car model became legendary through its role as a converted time machine in the three "Back to the Future" movies of the mid 1980s to 1990.
After getting the train back to the Titanic Quarter we leisurely explored East Belfast, mainly along Newtownards Road, the principal artery through this almost completely Unionist stronghold. The political murals to be encountered here make that fact abundantly clear. Here's just one example from what is referred to as "Freedom Corner":
And then on Easter Monday we finally went to the biggie: the "Titanic Belfast Experience" right opposite the Titanic Hotel. This is THE centrepiece of the entire Titanic Quarter. In fact it has become the No.1 tourist attraction of all of Belfast (if not of Northern Ireland at large). It's so popular you have to pre-book tickets online and that's what we had done.
When I first started planning this NI trip I saw online that this museum was "temporarily closed for refurbishment", and at first I was devastated. But then I read in the small print that the exhibition was scheduled to reopen just in time for our stay in Belfast.
I had visited the original shortly after its first opening back in 2012 (then coinciding with the centenary of the Titanic's sinking) and of course I was intrigued to see what the update after a decade had resulted in. Well, the first two thirds of the exhibition are actually unchanged (thankfully, because it's really full of cool features). Only the final part was all new. As is usual these days in museum exhibition designs (see e.g. the new parts of the Hiroshima Peace Museum), this new section is much (literally) darker in design, with black walls and exhibits pinpointed by spotlights, and of course, as is apparently compulsory these days, lots of interactive touchscreens have been added. Thematically, much more than before is made in the new exhibition of the sinking of the Titanic, its aftermath and of the search for the wreck. Gone, on the other hand, are the props from the 1990s blockbuster movie "Titanic" by James Cameron (back in 2012 they had the original costumes on display worn in the movie by Kate Winslet and Leonardo DiCaprio).
The final feature at the end of the exhibition was visually quite impressive, with a black model Titanic slowly turning in the centre (suspended from the ceiling) while huge floor-to-ceiling all-wall video screens visually represented all the phases of the Titanic's story, from design, building, voyage and sinking to the rediscovery of the wreck. It really looked quite dramatic. Here's a snapshot impression (for what it's worth – it's difficult to capture in a still photo, really):
Also now part of the Titanic Belfast franchise is the SS Nomadic, an original tender and the last surviving original vessel from the former White Star Line (for which Titanic sailed). It transported passengers from the port of Cherbourg to the Titanic in April 1912 (see also Cite de la Mer). The boat was saved from the scrapyard and painstakingly restored over many years and is now pretty close to what it would have looked like back in its heyday. There's yet another modern exhibition inside as well. Here's a photo of one of the passenger decks:
The next day we said goodbye to Belfast and got the train up to Derry/Londonderry, Northern Ireland's second city and infamously the place where "the Troubles" first erupted in the late 1960s. It rained heavily the entire two days we were there (someone I know who's from the city said that that's perfectly normal, its "default weather" as it were). I hence didn't take many pictures of the city as such.
But my main reason for retuning here after a good ten years since my first visit was in any case to see the revamped "Museum of Free Derry". Informally also known as the "Bloody Sunday Museum", this is about the most infamous massacre against civilians that happened in the entire "Troubles" period, in 1972, at the hands of the British military (you may know the U2 song "Sunday, Blood Sunday"; it's about that day). I was aware that the museum had been given a major overhaul some years back and even an all-new purpose-built structure to house it, so, again, a revisit was overdue. And I was keen to see what had changed. But first here's a shot of the new building's exterior:
The exhibition inside, however, looked very familiar from my 2012 visit. It's just presented a little bit differently and has a few more modern media features, but the original artefacts on display are all basically the same. That's not a criticism. It's still as captivating as it was back in 2012 and definitely still the No.1 reason for any dark tourist to come to Derry/Londonderry.
After exploring the (mostly still familiar) political murals of the Bogside (the district just outside the Old City Walls that the museum is located in) we also made our way to the Tower Museum in the centre, which I hadn't seen on my first visit back in 2012. The main bit I was interested in was, again, the section about "the Troubles", of course. It was decent, if, as expected, not in so much depth. But it's a worthwhile add-on to a visit to the Free Derry Museum, also as it is not as "sectarian" (i.e. not as one-sidedly Republican) as its bigger and more significant equivalent in the Bogside. Here's a photo from the exhibition:
The next day we got the train back to Belfast for one more stop-over night before flying on from Belfast's George Best City Airport to Birmingham to visit my wife's family there. (And if you don't know who George Best was, brush up on your football history knowledge! He's said to have indeed been one of the best players of all time – and his life was at least as flamboyant, if tragic in the way it ended …).
But in terms of dark tourism that was it for this most recent trip.
I hope you enjoyed reading this overview account and the 21 photos (which is quite a lot for posts on this Blog!).
Several of the individual sites briefly mentioned in this post will be worth being given separate more detailed and more richly illustrated new DT Blog posts over the coming weeks and months.
I still have lots of other things on, though, not least health-wise (as readers of the lastest DT Newsletter will be aware of), so please bear with me. These posts may not come as soon as they would otherwise have. But I'll try my best. Be patient.
So much for now. Until next time.