In previous posts I more or less promised a photo essay Blog Post about the fabled ghost town of Varosha in Northern Cyprus, which I visited in January. I am now fulfilling that promise. I've selected 20 photos to illustrate the atmospheric ghost-town-ness of that place. This is basically just a visual post, a photo essay, without so much text. For the historical background as well as the controversial and contested status of this ghost town please see the full Varosha chapter on my main website!
The first image was taken near the new tourist entrance to the ghost town, which in Turkish is known as Maraş.
The building in the background is the first of the numerous abandoned hotels of Varosha that you encounter. All those bicycles in the foreground, and the electric buggies behind them, are for hire – for those who aren't up for all the walking that a visit to this place otherwise entails. But I found that exploring Varosha on foot and slowly was much better for photography. If you just dashed past everything by bike or in a buggy you'd miss too many atmospheric photo ops.
There are literally thousands of abandoned buildings of all sizes in Varosha, but you are only allowed to explore along a given route, which is in fact a newly tarmacked road prepared specifically for tourist visitors. You have to stay on that route and are not allowed to stray into other parts of the town. And: you are not allowed to enter any buildings. The warning signs are omnipresent:
Apart from residential buildings, hotels and shops, there are also abandoned restaurants, such as this one:
Often these are boarded up, but in this case you can get a pretty good look inside (spot that huge open fridge):
At the main crossroads in the northern part of Varosha is this abandoned cafe. The name suggests that there may once have been a bit of a German clientele when Varosha was still Cyprus's No. 1 tourist destination.
The green patch in the foreground is one of the few attempts at beautifying the place that have been undertaken. Note the blue UN flag atop the building (another ex-hotel) behind the cafe. Indeed this is one of various UN observation posts. Here's another one:
You are nominally not supposed to take photos of any military infrastructure or UN installations and personnel, but I thought zoomed in from a distance should be OK. And you can't make out any people.
Also still in the northern part of Varosha stands this odd structure:
I thought it resembled a nuclear power plant, what with those grey concrete domes, but it is/was a Greek Orthodox Church. Note the rusty crane in the background. In fact there are several unfinished construction sites in Varosha, and this is one of them.
Closer to the seafront stand some very large hotel high-rises. This one even had its own swimming pool, now overgrown:
On the other side of this hotel is one of the two stretches of beach on Varosha's seaside that have been made accessible to tourists now. This is the view south from there, with yet more abandoned high-rise hotels lined up along the coast: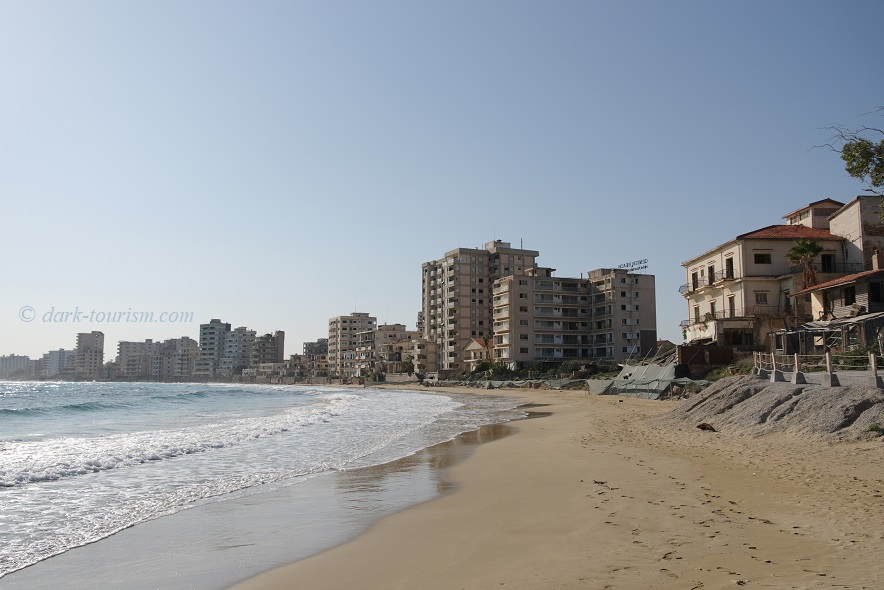 Back inland the ghost-town-ness continues. The many abandoned shops were perhaps the most intriguing bits, such as this one promising "unusual things":
A bit further south I spotted some war scars from shelling on a couple of buildings, as you can see here:
These pockmarks must be from the Turkish invasion back in 1974 during which Varosha was quickly taken and all residents (and tourists) had to flee.
To the side of one abandoned building I spotted a car wreck – in fact the only vehicle I saw there (the fabled car sales showroom with almost intact 1970s cars is unfortunately not accessible). But I could not determine what make that would have been (does anybody know? If so, please put it in a comment below this post):
The most interesting and atmospheric part of Varosha, for me, was the street leading west from the main crossroads in the northern part of the city – as this was the main tourist shopping and entertainment mile. Lots of souvenir shops, services and what not were advertised here, with the letters often crumbling away, such as in this case:
You may remember from the general Cyprus Blog Post in January the advert promising the processing of "all makes of colour film", from the pre-digital photographic era. Another sign I found tragically amusing was this, offering hand-tailored suits made to order:
There were also establishments advertising "nightly dancing", but obviously there's no more dancing here. Similarly this disco remains permanently shut: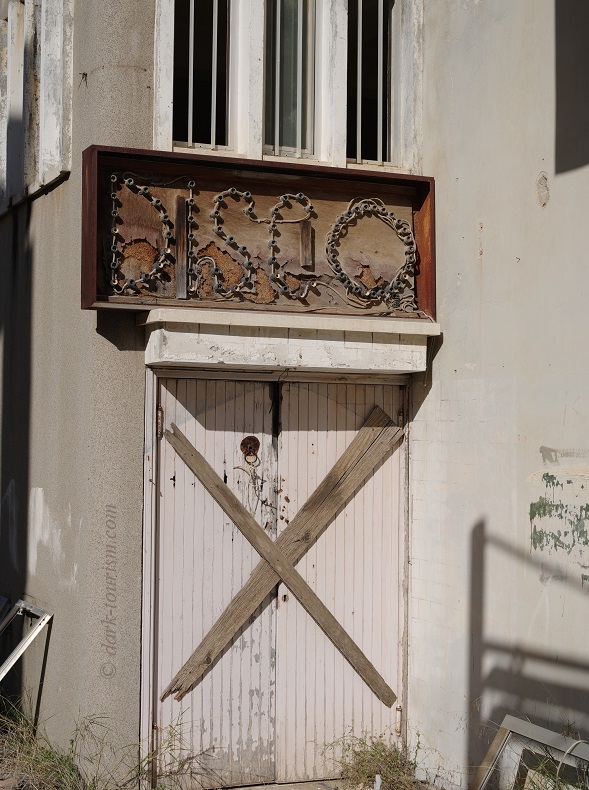 Inside one ex-travel agent's office I spotted a well-preserved panel for the former British European Airways (BEA):
Varosha became a ghost town actually just before BAE merged with BOAC in 1974 (to form the single national airline British Airways of today). Incidentally, my first ever flight (I was about ten) was on a BEA plane of the type seen here, a British-built Hawker Siddeley Trident, namely on a short flight from Hamburg to West Berlin, landing at the legendary Tempelhof Airport. A Cypriot Airlines Trident still sits marooned on Nicosia's former international airport, which fell into the UN-administered buffer zone (Green Line) following the Turkish invasion and partition of the island in 1974. That abandoned airport is not normally accessible for tourists, but you can go on a 'virtual tour' of it at this project's website (external link, opens in a new tab).
Not far away from the ex-travel agent's office is a large Toyota sign on the roof of a corner building. And I wonder whether that may be home to that fabled car showroom (see above). Unfortunately, though, you cannot look inside. And the UN post outside suggested that trying to peek in might not be such a good idea.
A bit further west the road for tourists ends (by a small reactivated mosque). From here the streets leading away are in the forbidden zone. On the fence on the right you can just about make out the typical Turkish signs forbidding entry and photography:
In other places barbed wire (or rather razor wire) makes it clear that you are not supposed to proceed any further here (same photo as the featured one at the top of this post).
There is, however, a part of Varosha that is freely accessible and has been since long before the partial opening up of the ghost town. That is Palm Beach at the point where Varosha and old Famagusta meet, i.e. in the Turkish North Cyprus part.
This is also where the largest of the abandoned hotel high-rises stand. Spot the war damage on the back of the first hotel on the right of this frame. There's a functioning hotel just to the north of this spot overlooking this beach and that's where I stayed when I was there in January. It's imaginatively (not!) called Palm Beach Hotel, even though there aren't actually that many palm trees around here.
I don't normally care much about beaches (in fact a beach crowded with sea-and-sun holidaymakers is the closest I can imagine to Hell on Earth), but this particular beach obviously has its unique dark attraction. Fortunately it was off season, so the beach was largely deserted. I wouldn't want to be there in summer when it's packed.
But so much for this post about this fabled ghost town. Again: to read more background info and to see even more photos please go to the Varosha chapter on my main website.