Last week I was contacted by someone in the English department of the Franco-German co-operation TV channel ARTE. I was alerted to two series of short video productions (with episodes of between 5 to 8 minutes in length) on topics that include, or at least overlap with, dark tourism themes. (Find the links to the programmes below!)
The first one is called "Toxic Tour" and has six episodes, each about some environmentally damaging or polluted site. The first is a bauxite smelter waste dump of red mud in the landscape in southern France; one is about a toxic lake in Romania, the result of a large copper mine's waste that swallowed an entire village (cf. Berkely Pit); another about an acid river in Spain (Rio Tinto) that is also the result of copper mining; one is about a coastal site in Italy where they dump chemicals directly into the sea (and people go surfing in it!). I had never heard of any of these places before, so that was all quite eye-opening.
The fifth episode, however, is about a familiar site, though I haven't yet seen it with my own eyes, namely the huge Hambach lignite-coal strip-mining pit in Germany. But the mine has in recent years been in the German news a lot, mainly due to the protests against the destruction of a nature reserve to make space for an expansion of the mine. I had been inside such a pit myself once too, although elsewhere, namely in the Lausitz area of Eastern Germany. And that was supremely fascinating and visually mesmerizing. It was a chance encounter back in the 1990s, though, and unfortunately I hadn't taken a camera and hence have no photos of this.
The final episode of the series is about a place I am quite familiar with: Chernobyl in Ukraine. The series was filmed in 2021, and this episode now has a recently added introduction pointing out that it was filmed eight months before the beginning of the Russian invasion of Ukraine and that the film-makers' thoughts are with the protagonist featured in this episode and everybody who helped with the filming at Chernobyl. So the topic of war currently dominating all media could not completely be escaped after all …
Out of my extensive archive here's just one photo from the Chernobyl Exclusion Zone, but not of the NPP or the ghost town of Pripyat, as usual, but one of the rusting wrecks in what used to be Chernobyl's river harbour/shipyard taken in May 2015 (a nice drone-filmed aerial shot features in the video too, hence this choice):
  .
The other video series on ARTE has eight parts and is entitled "Red Urbex". This is about urban exploration destinations in the former communist Eastern Bloc, three of which also have full chapters on my main website, namely Buzludzha in Bulgaria, Petrova Gora in Croatia, and the Hoxha Pyramid in Tirana, Albania.
So for these three I can also provide some photos of my own. Here's one from inside Buzludzha:
Petrova Gora is already pictured in the featured photo at the top of this post, an interior shot of the swirling concrete main staircase inside the abandoned monument. Here's a photo of the dilapidated exterior:
The Hoxha pyramid I visited in 2011, and am now planning a return visit because Tirana now offers so much more for the dark tourist than it did back then; and I also want to see what has become of this structure (if anything). But for now here's an old photo of the pyramid:
In addition the series covers the Wünsdorf former Soviet Red Army HQ in Eastern Germany, which is something I really should go and see for myself one day. A building also covered in the series and which I have at least seen, if only from a distance, is the Genex Tower in Belgrade, Serbia, one of the world's key icons of the architectural style known as brutalism (see also this fellow blogger's post – external link, opens in a new tab – about spending a couple of days living inside that structure!). Moldova's capital Chișinău is represented by two separate videos, one about an abandoned Soviet-era circus building, the other about one of those corn-on-the-cob-shaped residential skyscrapers that you can also find in other ex-Soviet cities, such as Minsk in Belarus. Here's a photo of some examples from there:
Also included is an episode about a Stalin-era former sanatorium that now stands abandoned in Georgia. I've not been to that particular one, but to similar places in the Baltics, Croatia and Slovakia. Here's a photo from the former Korytnica spa in Slovakia, which has also been abandoned for many years:
  .
Both of the ARTE video series are excellently filmed and I particularly took note also of the outstanding soundtrack produced for the two series by composer and sound designer Vincent Carlo. Really atmospheric and haunting electronic soundscapes that are very fitting for the videos.
Find the "Toxic Tour" series here, and the "Red Urbex" series here (external links, open in new tabs). They should be freely available for watching online until the end of 2024.
Finally, there's been some surprising (for me at least) news from the wacky totalitarian hermit realm of Turkmenistan: The country's president and de facto dictator of 15 years (after succeeding the Turkmenbashy, the country's first president since independence), who goes by the fabulously polysyllabic name of Gurbanguly Berdymukhamedov, has stepped aside to put in power a younger, new president.
So bye-bye old president Berdymukhamedov, and hello new president Berdymukhamedov. Yes, you've read right. This is Gurbanguly Berdymukhamedov's 40-year-old son Serdar Berdymukhamedov. So Turkmenistan has taken one more step towards resembling North Korea even more by having had a dynastic change of power, or 'hereditary succession'.
Unlike in North Korea, however, the change was "accompanied" by a presidential snap election. Although the outcome was, let's say, predictable. However, while the Turkmenbashy and Gurbanguly Berdymukhamedov regularly received election results in the region of 97% to 98%, Serdar Berdymukhamedov "only" managed around 75%.
Now let's see whether/when golden statues of the new president will join those countless shiny effigies of his two predecessors. Analysts and observers are not expecting any major political changes, though, and Berdymukhamedov Sr (who is 64) is likely to continue to wield much power behind the scenes.
Another difference between Turkmenistan and North Korea is that the former is rich in natural resources, mainly natural gas. Most of this is sold to China, but some also goes to Russia's gas giant company (I'm deliberately avoiding its name here). Turkmenistan has long pursued a "neutral status", and its Turkmen state media have mostly been quiet about the current war in Ukraine. But then again, the country has officially also claimed never to have had any Covid-19 cases, and hence the pandemic is not a state-media topic either. It's like a bubble.
Turkmenistan is not only a wacky, crazy place in terms of presidential politics, propaganda, megalomaniacal monumentalism and cult-of-personality excesses, it also has one of the world's worst human-rights records. This poses a certain ethical dilemma with regard to visiting that country. Yet it is a significant dark-tourism destination – for very different reasons, especially the unique Darvaza flaming gas crater, which has featured on this blog before not so long ago. When this crater was said to be threatened before, I joined a group tour to Turkmenistan in November 2010 organized by Koryo Tours, otherwise the No. 1 specialists in North Korea tourism (so it fits together – they also do tours to far-east Russia, Mongolia and the other "Stans", in particularly Kazakhstan).
Here are just a few more photos with impressions from Turkmenistan in 2010, mainly from the capital Ashgabat, but also a few from further afield … without extra comment, just captions: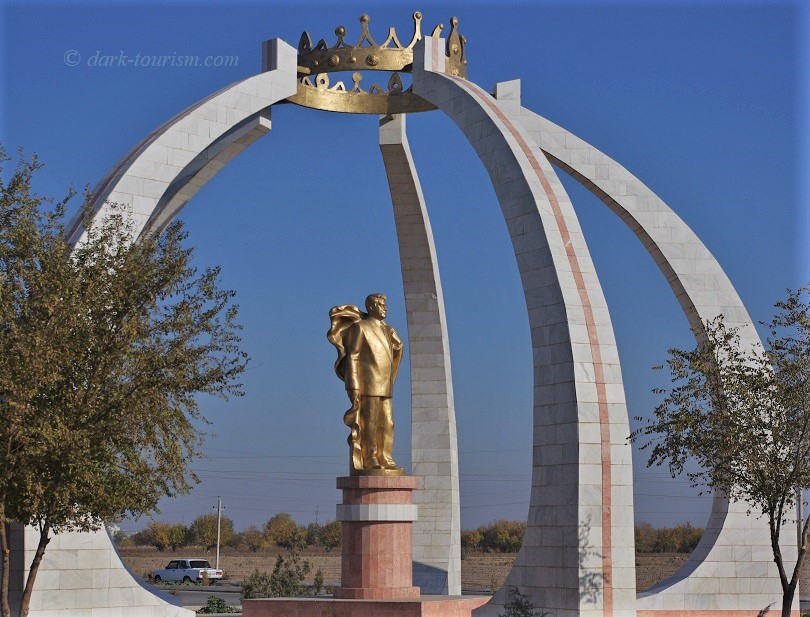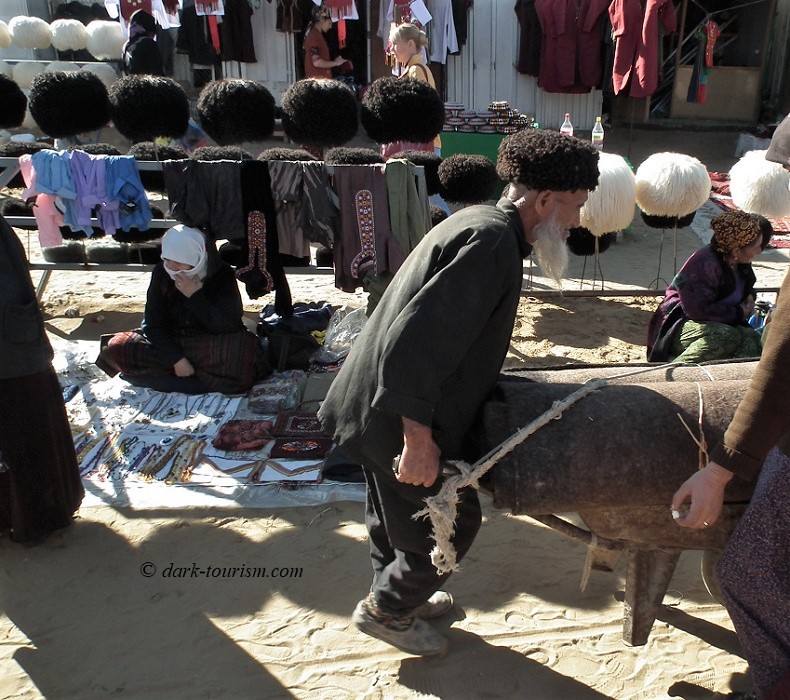 .