As decided in our most recent theme poll, I now bring you the winner, DT & toys. It was probably the oddest of the choices, the biggest juxtaposition, and hence the most intriguing. In any case it was a very clear win far ahead of all the other choices (but I may field DT & mining again before too long).
So what kind of dark do we get with toys. Well, for starters there are war toys, like model planes, tanks, toy guns and whatnot. In fact, one of the best military museums I know of, the Militärhistorisches Museum der Bundeswehr in Dresden, east Germany, has amongst its thematic sections one entitled "war and play". And this had some remarkable toys on display, including the one featured above, from the early days of the Atomic Age when people's attitudes to all things nuclear were still quite naïve and optimistic. Today, a clown steering an "Atom-Rocket" just looks comical, even absurd.
Another toy on display in the same museum section was this futuristic-looking missile launcher (I think it was an Eastern European model):
Also displayed in this museum was a scorched toy tank from Dresden, found after the bombing of the city and the resultant firestorms of 13-15 February 1945 in which tens of thousands of civilians perished. This scorched and rusty toy tank found in the smouldering rubble afterwards thus serves as a very dark relic:
Sometimes it is the location that makes a toy dark, as in this object seen in the kindergarten of Kopachi, a village that found itself dangerously close to the 1986 Chernobyl disaster:
Kopachi village was so close to the NPP that it was heavily contaminated by radioactive particles. Hence all wooden houses were torn down and ploughed under together with the topsoil as part of the post-disaster clean-up operations. Only the brick-built kindergarten was left standing. It was one of the most surreal places my guide took me to on my latest visit to the Zone in November 2018. Here are a couple more toy photos from there.
The many toys, and especially dolls, that you can find in various kindergartens and schools across the Zone, including in the ghost town of Pripyat, have come under criticism in recent years as an "unauthentic" element, brought about more often than not by tourists, stalkers and journalists specially arranging the left-behind toys to look atmospheric, in that dystopian kind of way. In some cases objects have even been brought into the Zone and added to the "fake still lifes". But these toys in Kopachi I think looked real and authentic enough. And even if a couple of them were moved into position, it's not the same as those gas masks you can find in Pripyat that have actually been attached to dolls' heads to look "scary" or "cool".
Here's a final one from Kopachi, also a still life, and quite possibly specially arranged (but not by me!), of plastic toys plus a tiny woolly kid's shoe on a table:
To contrast with that dusty arrangement, here's one of an assortment of clean and intact plastic toys, made from material that was known in the GDR as "Plaste & Elaste". Now they form a kind of nostalgic relic of the bygone days of the socialist "workers' and peasants' state" that collapsed after the "fall" of the Berlin Wall. These particular objects are exhibits at the "Life in the GDR Museum" in Berlin:
Having mentioned dolls, I could have included loads from Chernobyl, but I decided to leave that for another, separate post one day. But dolls, as well as soft toys, can also feature in dark tourism in other contexts. Here's one that ties in with the previous post about the Falklands War:
The photo was taken in Port Howard on West Falkland one evening when we were invited to a local "social club", i.e. to an impromptu party with the locals and seasonal workers. Early on (before the drinking and dancing got wilder) a family with a young daughter was there too and the little girl chucked first the doll then the penguin into this still life of sorts. Look at the doll's head – it's twisted round by 180 degrees! The scruffy fluffy penguin doesn't look like it's much loved either.
On the subject of soft toys, one has featured on this blog before, namely in the post of 28 January, the anniversary of the 1986 Challenger space shuttle disaster. Here's another version of that photo:
This is indeed one of the most unexpected and remarkable soft toys I've ever encountered. It's one of the exhibits at the Onizuka Space Center at Kona airport on Big Island Hawaii. The centre is named after Ellison S. Onizuka, one of the astronauts who perished in the Challenger disaster.
One of the most tragic but also most unlikely soft toys I've come across on my dark travels was this battered, dusty, fluffy toy lamb:
This was an exhibit at the Tribute WTC Center in New York City in 2010 (this institution has meanwhile moved to larger premises and was renamed "9/11 Tribute Museum"; it's a family-association-run counterpart to the official National 9/11 Memorial & Museum). This soft toy was found by rescue workers at "Ground Zero", atop the giant heaps of rubble of the collapsed Twin Towers of the World Trade Center (WTC) – and those workers rightly asked: how could this fluffy lamb have "survived" almost unscathed when so many people did not?
But the most unusual soft toy I've ever encountered on my travels was in the shop associated with the Mütter Museum, an eminent medical exhibition in Philadelphia, Pennsylvania, USA, and I actually bought one, just to have proof of its existence:
It looks like an alien, but is a fluffy-toy recreation of what an E. Coli bacterium apparently looks like. In the museum shop they had all manner of other viruses and pathogens for sale in soft toy form, but this was by far the cutest. This was back in 2010 too, so they didn't yet have a fluffy Covid-19 soft toy yet … they probably do by now.
The most common form in which one can encounter soft toys at dark-tourism destinations, however, is in the form of little mementoes left behind at memorials to tragic events, especially if these involved children. This one is a case in point:
Here you can make out several soft toys placed at the base of the monument, alongside the bronze ones that form part of the sculpture. This structure commemorates the victims of the Beslan school hostage crisis and massacre of September 2004 in North Ossetia, southern Russia. I've never been to the actual site of that particular tragedy but stumbled upon this monument by chance when I was in Moscow, Russia, in the summer of 2017.
Sometimes the leaving of toys at places of tragedy takes on monumental proportions itself, such as this example of amassed soft toys that I encountered at the Salaspils concentration camp memorial near Riga, Latvia:
More often the soft-toy ratio is more restrained, like at this child's grave in Vienna: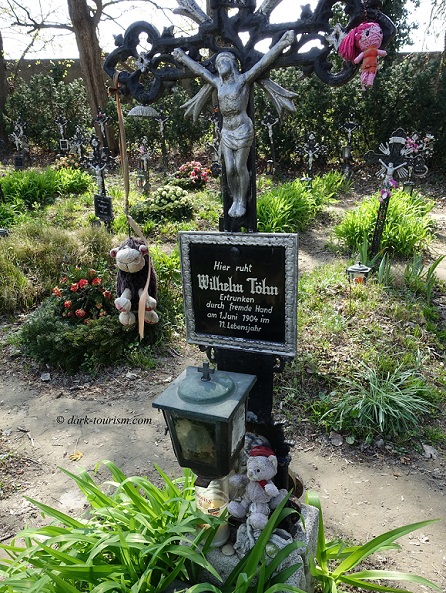 This grave is part of the fabled Cemetery of the Nameless here in Vienna, but as you can see this grave isn't actually nameless. There is not only a name given, but also the extra information: "ertrunken durch fremde Hand" plus the date of death and age (11) of the boy at the time. What the euphemistic line in German basically means is "drowned by other hands", i.e. he was murdered!
Here's another photo from the same place, a close-up of that pink knitted doll in the top right corner in the photo above – I think it looks almost a bit like a voodoo doll …:
Leaving behind soft toys, another category of war and play is games, especially of course explicit war games. Here is an example from the World-War-One era, a board game now on display in the superb WW1-exhibition at the Military History Museum at the Arsenal in Vienna:
Also a kind of game is this "Legespiel" in which players have to recreate the legend "Adolf Hitler", as on the label, by arranging the pieces of cut plywood enclosed in the correct way:
This was another exhibit seen at the Dresden military history museum. It's the sort of photo that on Facebook could result in a ban – except that in my case that already happened almost a year ago – because in the selective-reality world of that platform the real-world existence of such an item, or even just that name, must not be mentioned (while at the same time actual neo-Nazis can continue using the platform for networking – such is algorithm-driven "justice" in the age of social media …).
Extending the concept of dark toys even further, here's an example of a very dark slot machine:
This is a genuine slot machine from 19th century Britain: by inserting the required coin users could trigger a little puppet show of a convict receiving the last rites before being hanged. Fun, fun, fun, innit? This photo was taken in a temporary exhibition about the history of capital punishment and its status around the world today which I saw several years ago at the unique Sepulchral Museum in Kassel, Germany. It's mostly about funeral culture but also goes beyond that, e.g. it has a section on the topic of death in caricatures, so showcasing very black humour!
If looking at toys in a wider sense, then scale-model kits should be included here as well. Essentially they are self-built war toys of planes, tanks, warships and whatnot. I certainly spent a good amount of time (for a couple of years) on building such things when I was a young teenager. But here is an example of something that is not only dark because it's a military vessel, but it's additionally a particularly tragic one, the Kursk:
The Kursk sank during a naval exercise in the Barents Sea after a massive explosion in August 2000. The slow response and media manipulations in the wake of the sinking attracted much criticism. It was as if the Soviet Union was back in Russia, and newly appointed president Vladimir Putin didn't have his best PR moments. After five days of failed attempts to first locate the wreck and then attach escape buoys to the submarine's escape hatches, the Russian authorities finally accepted the help of experts from Norway and Britain, which had been offered as soon as the incident was admitted to in public. After two further days these rescue divers finally managed to open the hatch, but found no survivors. It later transpired that there initially had been survivors, but the group of some 20 submariners, who had held out in an air bubble in the rear compartment of the boat, ran out of oxygen before help arrived. A note written by an officer that was found with the bodies confirmed they had been alive and aware of their dire situation. Whether they could have been saved had the rescue operation been launched more swiftly, remains unclear, however.
I spotted that scale-model kit of the Kursk in Moscow in 2017, namely at the very large shop inside the Museum of the Great Patriotic War (i.e. WWII, in the Soviet parlance that is still used today in Russia). Here's another item I spotted there, which kind of brings us full circle, as it's another toy missile launcher, but this time a contemporary one: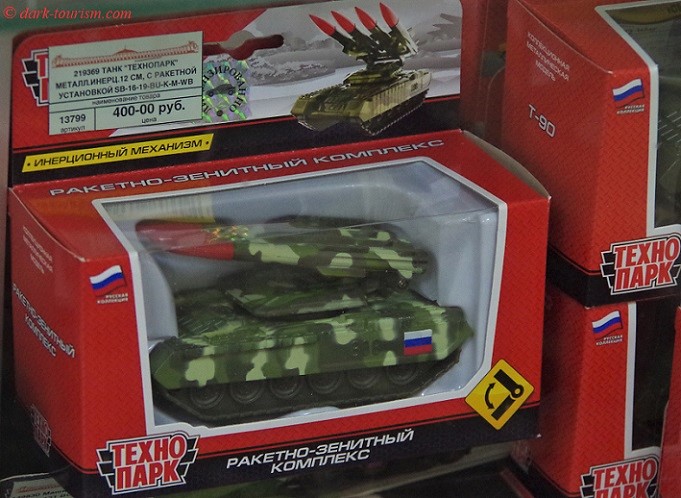 This is the model of a mobile anti-aircraft guided-missile launcher of (or very similar to) the Buk type that in July 2014 was used to bring down a Malaysian passenger jet over eastern Ukraine killing all on board.
And that concludes our little journey into the rarely featured theme of dark tourism and toys. It's in the nature of the topic that occasionally it's couched in not only serious wording but also a bit of black humour. I hope that is understood as intended and hasn't offended anybody (which seems to be so easily done these days).